Imprintable Cookie Cutters & Presses
Imprintable Plastic Injection Molded Cookie Cutters & Cookie Presses
Bake up some delicious cookies with our standard line of imprintable fun-shaped and themed cookie cutters and presses. Perfect for cookie baking or for soft foods that can be easily cut out with a cookie cutter or press. Baking cookies will be memorable and fun with these handy tools.
Our standard imprintable plastic injection molded cookie cutters and cookie presses come in a variety of shapes, colors, themes, and sets that can be imprinted with your brand name, message or logo through our printing capabilities. Industry and specific themed cookie cutters include a Halloween set of four, a Holly-Jolly Holiday set of four and a single Snowman. Harco also offers specialized packaging, including individually plastic wrapped or poly bagged in sets with head cards.
Our standard cookie cutters and cookie presses are made-to-order in-house, from start to finish, in Peterborough, Ontario. We do the artwork and design, engineering and CAD programming. We create the dies and molds, and take care of all the details. You'll be dealing with one company —no third parties required.
Options include:
Custom imprinting
Biopolymer Resin Available
PMS color-matching
Special packaging
Our products are BPA-free, recyclable and FDA-approved.
Call or email us for your custom quote, 1-800-361-5361 / sales@harco.on.ca.
Imprintable Cookie Cutters & Presses
Complete the Quick Quote form, including the required size, quantity and color, and we will get back to you promptly with a custom quotation. Or, give us a call at 1-800-361-5361 to discuss your customized requirements with one of our experienced sales associates. Click on each image to view a larger version.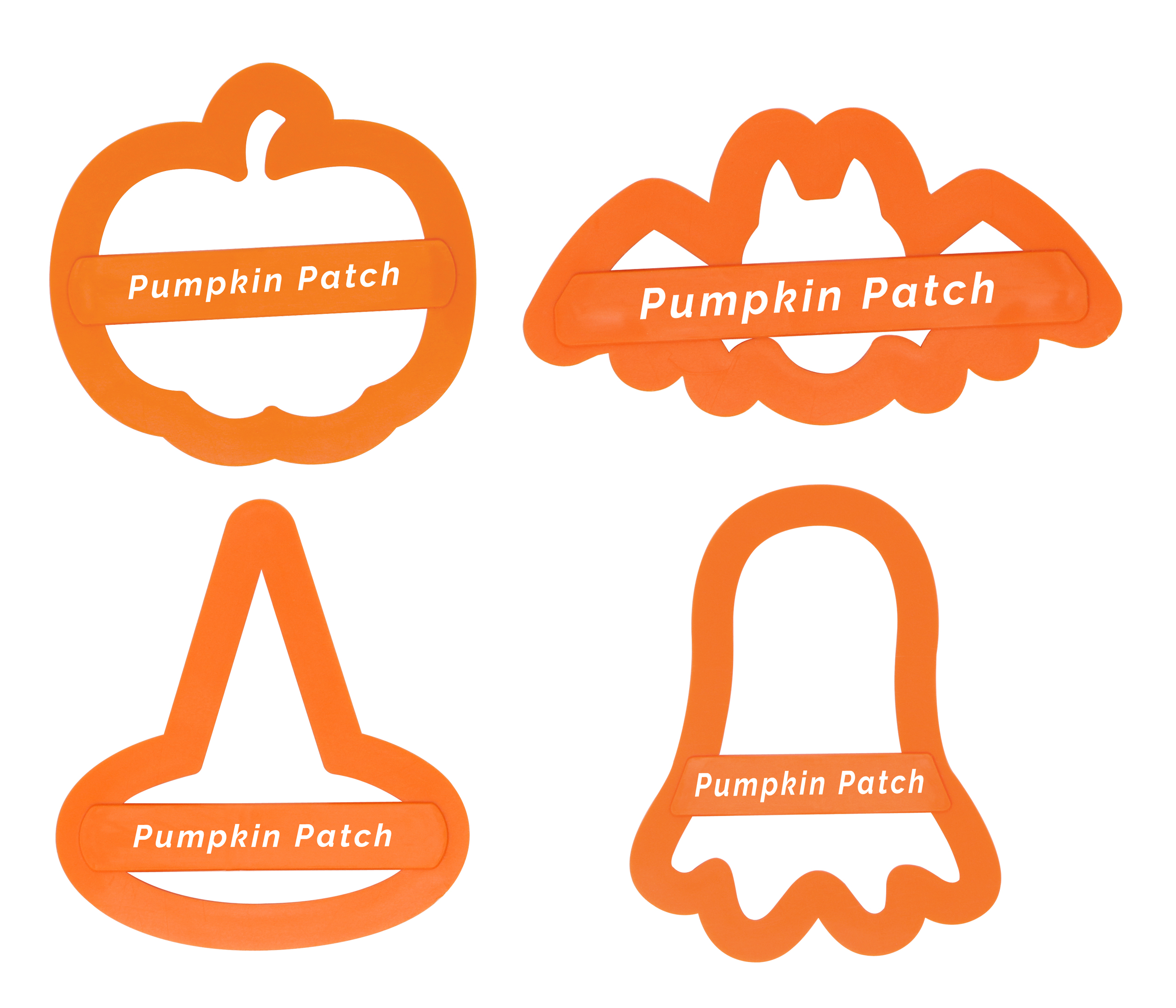 Halloween Cookie Cutter Set (set of 4)
Part #: HSCCS-1C Size: 3″ x 4″
Decoration: Imprintable
Description: Your Halloween baking will be positively spook-tacular when you make your cookies with these 3″x 4″Halloween 4-piece Cookie Cutter set, customized them with an imprint on the handle. This set includes four Halloween cookie cutters: a bat, a ghost, a pumpkin and a witch's hat. Available in a variety of colors, and can be imprinted with your brand name, message or logo through our printing capabilities. Optional individually plastic wrapped or poly bagged in sets.
Imprint Area: 0.25″ x 1″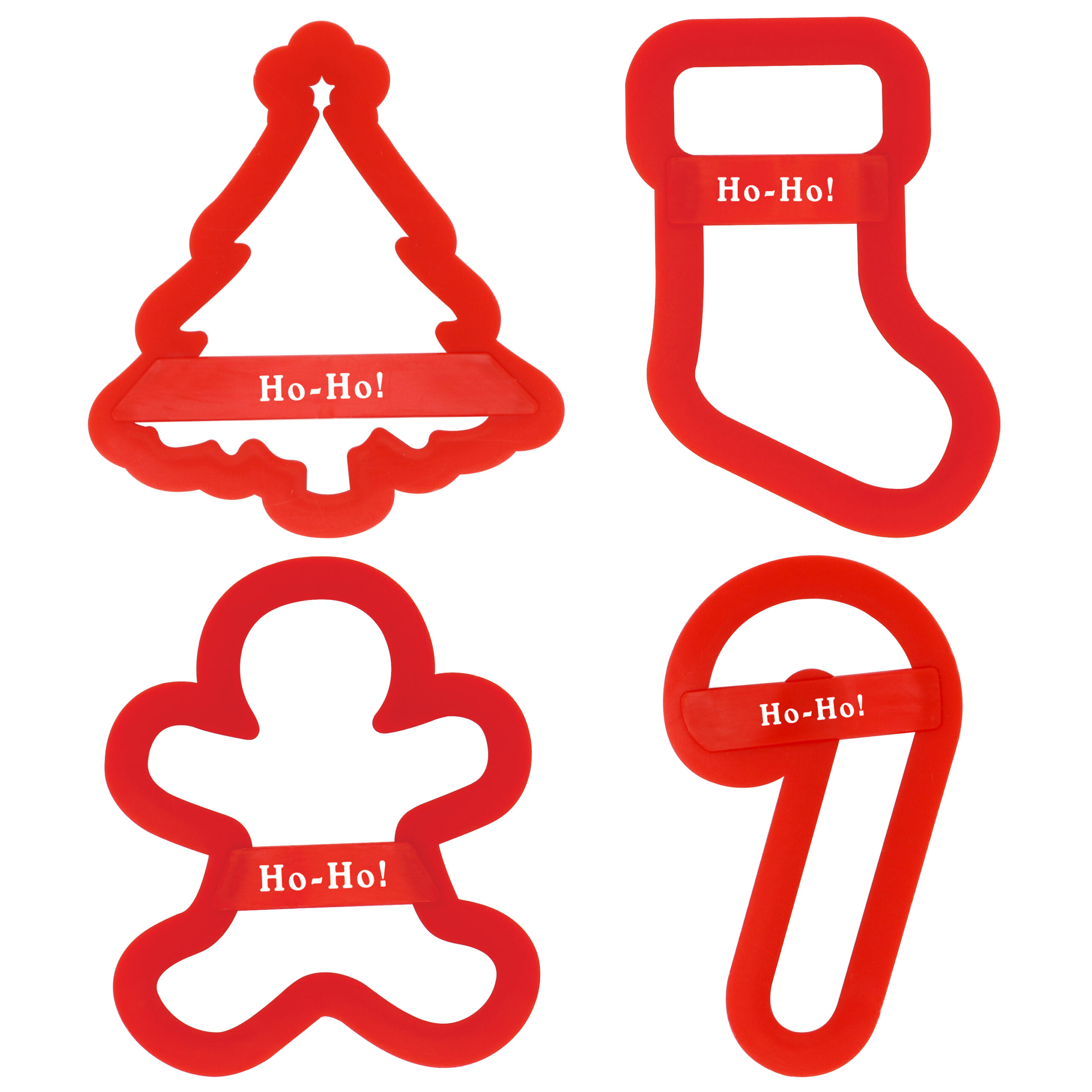 Holiday Cookie Cutter Set (set of 4)
Part #: HJCCS-1C Size: 4″
Decoration: Imprintable
Description: Your holiday baking will be holly-jolly when you make your cookies with these 4″ Holiday 4-piece Cookie Cutter Set, customized them with an imprint on the handle. This set includes four Holiday cookie cutters: a 'stocking, a candy cane, a gingerbread man and a festive tree. Available in a variety of colors, and can be imprinted with your brand name, message or logo through our printing capabilities. Optional individually plastic wrapped or poly bagged in sets.
Imprint Area: 0.25″ x 1″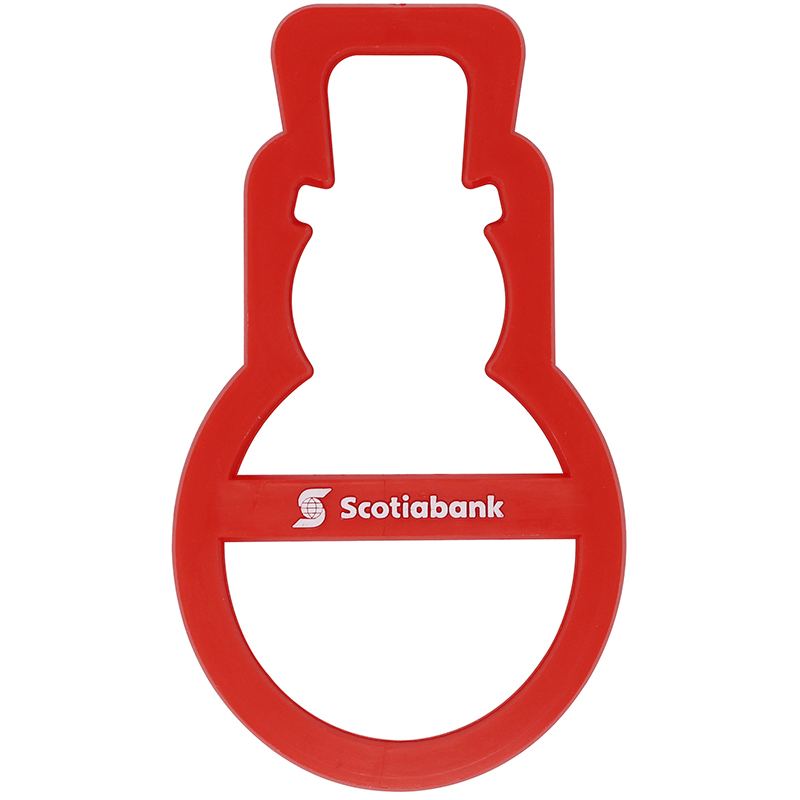 Snowman Cookie Cutter
Part #: 668-1C Size: 2.8375 " x 5″ deep
Decoration: Imprintable
Description: Use our 5″ Snowman Cookie Cutter to make cookies for your Christmas Party, gifts or as an ornament for your tree, personalize with an imprint on the handle. All our cookie cutters are perfect for cookie dough, fondant, soft fruits, bread, sandwiches, or craft clay. Have fun in and out of the kitchen! Available in a variety of colors, and can be imprinted with your brand name, message or logo through our printing capabilities. Optional individually plastic wrapped or poly bagged.
Imprint Area: 2″ x 0.25″