Custom Imprintable Plastic Drink Stir Stick and Cocktail Stirrers
Mix things up at your next cocktail reception or event with Harco's branded stir sticks, drink and cocktail stirrers, swizzle sticks or muddlers. High quality, sturdy beverage accessories that are ideal for restaurants, bars, cafés, hotels or special events. Get your brand in front of your customer's eyes with our plastic injection molded imprintable standard stir sticks. You can imprint your brand name, logo or other information that you want your customers to keep top-of-mind. No matter what you call it, our custom garnish tools add sophistication to any drink or cocktail served.
Harco also offers specialized packaging, including individually plastic wrapped or poly bagged in sets with head cards.
Options include:
Tipping
PMS color-matching
Our products are BPA-free, recyclable and FDA-approved.
Call or email us for your custom quote, 1-800-361-5361 / sales@harco.on.ca.
Imprintable Plastic Stirrers
Complete the Quick Quote form, including the required size, quantity and color, and
we will get back to you promptly with a custom quotation. Or, give us a call at
1-800-361-5361 to discuss your customized requirements with one of our
experienced sales associates. Click on each image to view a larger version.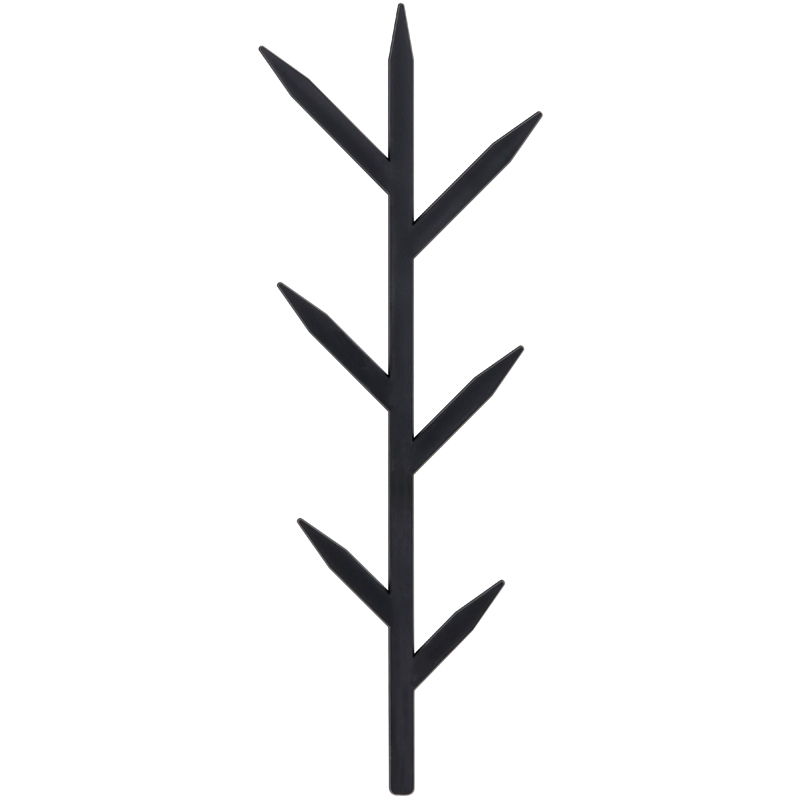 Beverage Tree Garnish Tool
Part #: 810GT-1C
Size: 7″
Decoration: Imprintable
Description: Decorate your cocktail in style with our new 7″ Beverage Tree garnish tool. Our newest cocktail garnish tool is available in a variety of colors and custom branded with one color imprint. Perfect for a Bloody Mary, Caesar, Mojito, Mimosas, Screwdrivers, other tropical drinks, milkshakes and so much more. Features six alternating skewers so you can enjoy your cocktail and garnishes at the same time. Let us custom design your Beverage Tree garnish tool, molded to any color and imprinted with your brand, theme, or graphic in mind.
Imprint Area: Shaft: 0.125″ x 2″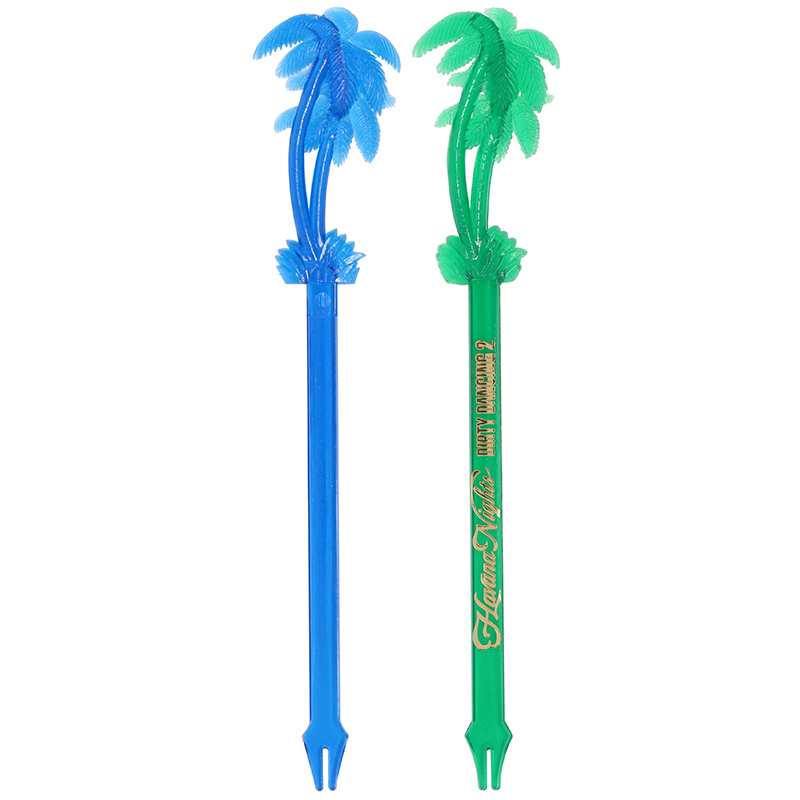 Palm Tree Stirrer
Standard End: Fork End
Part #: 73
Size: 6.5″
Decoration: Imprintable
Description: Our 6.5″ Palm Tree Swizzle Stick & Drink Stirrer with a fork type end and one color imprint. This is a perfect tropical themed garnishing tool to add to your cocktails and signature mixed drinks. A great way to promote your brand or message with FDA approved stir sticks.
Imprint Area: Shaft: 2.5″ x 0.125″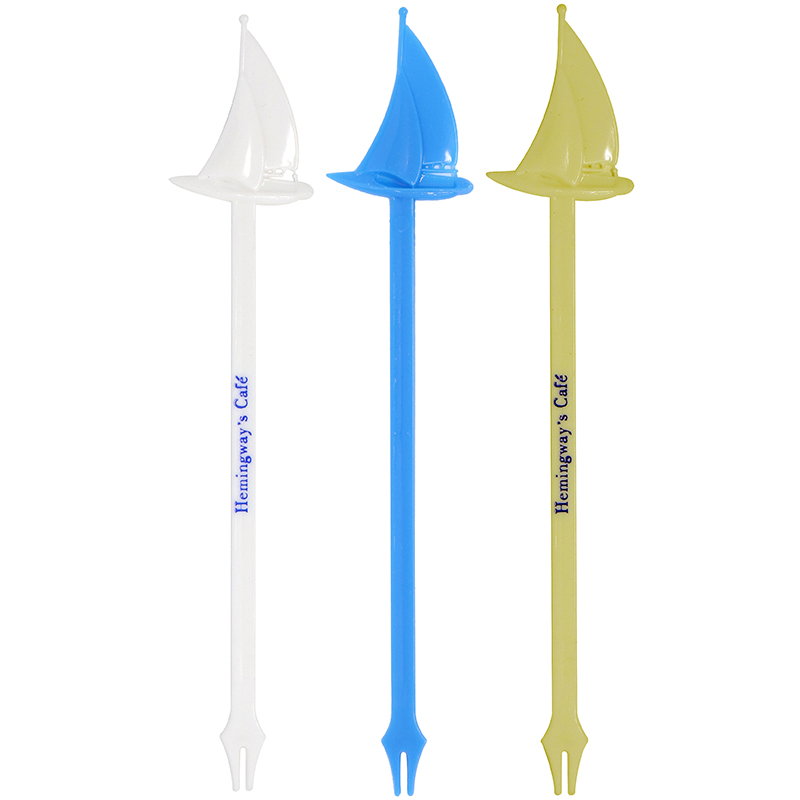 Sailboat Stirrer
Standard End: Fork End
Part #: 24
Size: 6.5″
Decoration: Imprintable
Description: Our 6.5″ long Sailboat Swizzle Stick & Drink Stirrer with a fork end and one color imprint. Ideal for advertising your business – restaurants, bars, cafes, coffee shops, banquet halls, hotels and special events. Advertise your establishment by customizing this stirrer with your logo, brand or message.
Imprint Area: Shaft: 2.5″ x 0.125″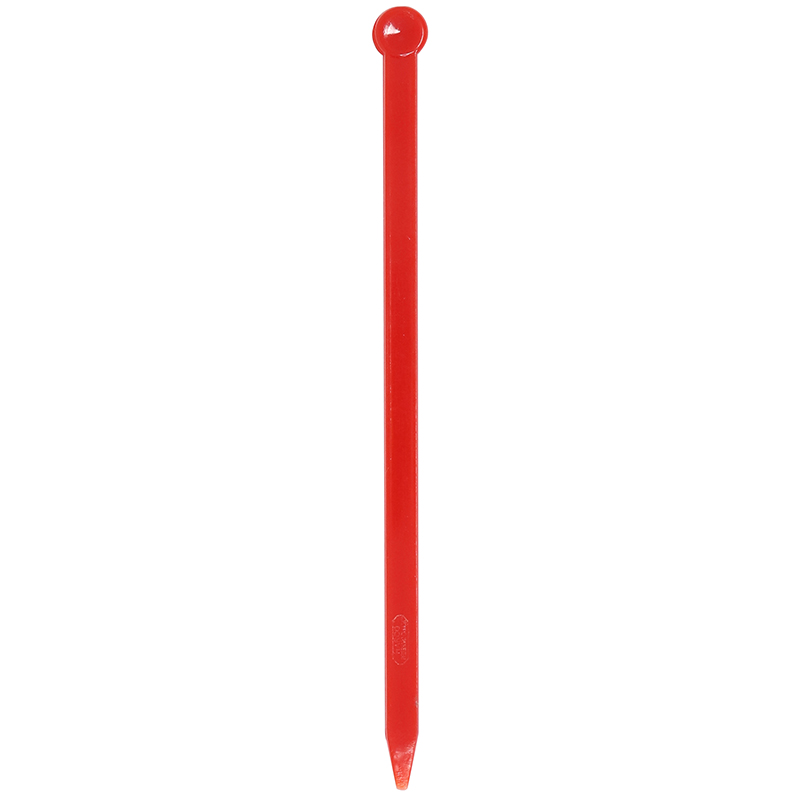 Coffee Stirrer
Standard End: Pick End
Part #: C300
Size: 5″
Decoration: Imprintable
Description: Our 5″ Coffee Swizzle Stick & Drink Stirrer with round flat top and a pick like bottom. This plastic durable coffee stir stick is ideal for garnishing coffees, specialty coffees, cocktails and mixed drinks. Promote your establishment by customizing this stirrer with your logo, brand or message.
Imprint Area: Shaft: 2.125″ x 0.125″